Nova Peris denied access to Christmas Island detention centre in her electorate.

Australian Border Force officials blocked Northern Territory senator's visit to the detention centre despite being given the green light from Serco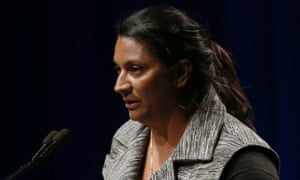 Northern Territory senator Nova Peris. Christmas Island is in her electorate. Photograph: David Crosling/AAP

Australian Border Force officials denied Labor senator Nova Peris access toChristmas Island detention centre, despite the facility being in her electorate.

Peris, who represents the Northern Territory, sought access to the centre from Australian Border Force officials on 8 October, when she was already on the island, but was denied. She had applied via the centre's management company, Serco, before arriving on the island, and had been given the green light from them.

"The Department of Immigration and Border Protection facilitates visits to detainees by their families, friends and other individuals for the purpose of providing social and familial contact," the rejection letter, seen by Guardian Australia, said. "Visits by individuals for research, education and other purposes are not consistent with this principle.

"Given the scope of your request, we regret that we are unable to facilitate this visit," it said.