By Trevor Mitchel



The British don't really do summer. It's not necessarily that we don't want to, but temperamentally we are autumnal, northern souls, and the imminent return of autumn is as welcoming as a comfortable old coat. For it means that we can finally ditch the pretence that we enjoy summer and its enforced, fun in the sun for another year.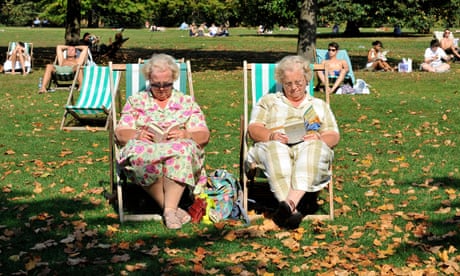 Our collective folk memory of childhood summers unhelpfully filters out the crushing boredom of six weeks off school and hoodwinks us into thinking that summer is a time of halcyon days, endless blue skies and carefree living.
In short, it makes us think that every summer should be like 1976.

The truth is somewhat different, of course. For instance, we conveniently forget that the summer of 76 produced both droughts and a record number of wasps that plagued picnics, ruined days at the beach and made walks in the countryside unbearable.

Summer tends to bring out the worst in us. Everybody is angry, tense, uptight. The mere thought of spending more time with the kids is exhausting, and as for a relaxing holiday – forget it. The beaches are jammed and many of us can no longer afford to go abroad anymore.

It's a season that is always fraught with difficulty – it's there in the terrible heat, the unseasonal cold, the insects, the idiot neighbours making a nuisance of themselves in their gardens when you're outside trying to have a quiet fag; the macho, Freudian anxiety about the size of our barbecues, not to mention the utter futility of mowing the lawn. And when it comes to dressing for the summer, well, apart from celebrities, none of the rest of us really know how to do it.
Why us
autumnal people pretend to enjoy the the small drips of summer that fall upon us is beyond me.