MURDOCH RUNS ALL AUSTRALIA'S MAINSTREAM MEDIA
The Independent Australia
People coming to Australia from overseas are often surprised by the bland uniformity of Australia's press. Newspapers, TV stations, radio stations ‒ even the supposedly independent public broadcasters ‒ all seem to run the same narrative, all the time.
Yet, despite Australia having one of the
most concentrated media regimes in the world
, Murdoch doesn't have an absolute monopoly. He does own 60 per cent of the newspapers by circulation and the only cable TV network, but no radio stations or free-to-air television networks. That means all the outlets not owned by the News Corp behemoth could position themselves in a sizeable niche by running a different line to Murdoch — yet none of them. Even in the UK, where Murdoch owns around 40 per cent of the metropolitan press, there are other outlets − Channel Four, ITV, the Guardian, the Observer, the Independent, the Mirror − that each present a unique and individual view of the world, each tailored towards a specific demographic. In that way, they build brand loyalty and respect from their readership. This is a sound and long understood business practice.
So, why is Australia's mainstream media different.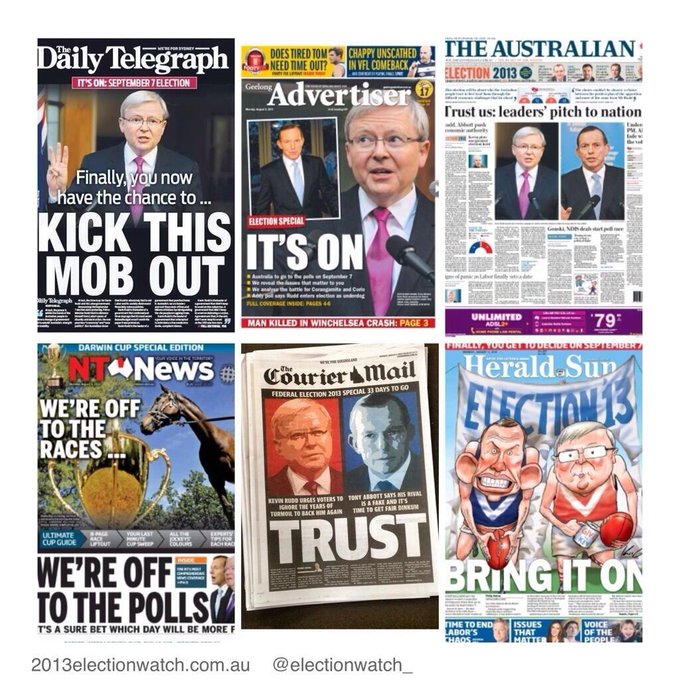 Partly, it is because of the way TV and radio stations work in this country. Very early each morning, producers will read through the major metropolitan newspapers to see what the "big stories" hitting the headlines are. Then they will direct their reporters to follow up on those stories. And, with Murdoch owning the majority of the newspapers, these stories will mostly be found on the front pages of the Murdoch press. It's a simple ‒ basic ‒ numbers game.
Also, commercial broadcasters are pro-business − and therefore pro-conservative politically − for what they presumably see as obvious reasons of economic self-interest. None of the current owners of Australia's commercial radio or TV stations seem to have ever thought that presenting a different perspective than Murdoch's might make them more popular amongst the many people with that world view and thereby competitive against News Corp. Or that doing so might stop the galloping leakage of disgruntled readers and viewers to alternative online publications like this one. Then again, no-one has ever accused Australia's big business of being innovative or intelligent.
But what about
'Independent. Always' Fairfax
? The Age and the Sydney Morning Herald go to press at the same time as the Murdoch papers. Why is what they produce almost indistinguishable from Murdoch's rightwing rubbish these days?
Well, that's because, in 2017, the company unveiled a brilliant new strategy to cut editorial staff, focus only on "popular" content and move its editorial stance purposefully to the political Right.