Wiggling rears for nature. Protesters say the idiotic parliament haven't a hope in hell of reaching agreement on Brexit. So why not mention climate change, maybe they'll agree on that.
Based on an article by John Crace
Semi-naked protest in Commons was no weirder than anything else that goes on there these days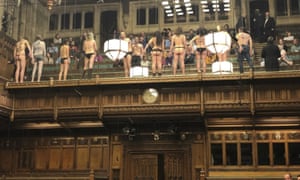 The people finally got to have their say on the government's Brexit deal. In parliament, no less. And what they had to say was that they wanted to take almost all their kit off and protest against climate change instead. They reckoned there was more chance of the world's politicians agreeing on plans to save the planet than anyone coming up with a Brexit solution that the government was prepared to implement. Because they the parliamentarians are to stupid. However, they
just
may be able to tell if its raining or not raining outside?